Falcon 4.0 Eritrea Theater
Background of Eritrea.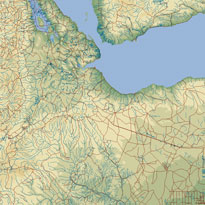 Horn of Africa action in Falcon 4. Countries involved; Djibouti, Eritrea, Ethiopia, Somalia and Yemen.
Size and Coordinates
These are the technical details of Eritrea theater. Its an 64 segment theater which is the same size as original Microprose Korean theater. Here are the specifications...

Size (L2 segments): 64 x 64
Size (L2 tiles): 1024 x 1024
Size (Nautical Miles): 552.377 x 552.377
Resolution: 0.134858 Nautical Miles
Centered on: Lat 10 Long 43.5
NW: Lat 14.6031 Long 38.7432
NE: Lat 14.6031 Long 48.2568
SW: Lat 5.39686 Long 38.8764
SE: Lat 5.39686 Long 48.1236
Highest point: 14313ft
Lowest point: 0ft


Textures
Currently textures (tiles) are from default Falcon 4. Plan is to include African desert style terrain texturing.
Campaign
Includes three campaigns with light weight theme, United States team has only limited equipment, no massive troop concentrations here, more like every man and aircraft counts. OPFOR is with older type eastern world equipment.
Version and Download
Latest version can be found from Falcon 4.0 PMC Theaters page.