PMC Somalia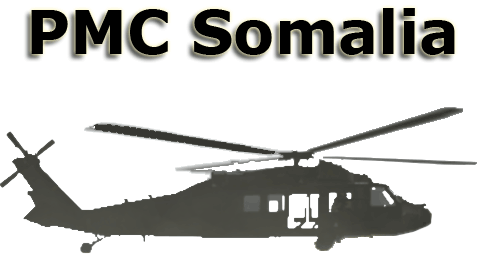 Realistic Somalia mod, 1993 to present day
Included units, in-game:
160th SOAR pilots
African militia
AH6 / MH6 Littlebirds
Blackhawks (well BIS placeholders)
HMMWV
Mogadishu city in realistic dimensions
US Army Delta Force
US Army Rangers
US Navy SEALs
AH1 Cobra is included from stock game content.
Planned features:
5t Truck
Ruined buildings for present day Mogadishu
United Nations Pakistani units
PMC Somalia ArmA 2
official homepage and
PMC Addons/Mods Online Manuals: PMC Somalia ArmA 2
.
Note; included units are fact, they are in-game and you can play with them today. Planned features mean that it is not 100% guaranteed that they will appear in this mod, we do everything we can to make it happen but no promises.
This modification is currently
under development and very much work in progress
, basic units are in-game and playable, but modeling, texturing and config values are not finished. Especially buildings and their placement are mere placeholders now. Terrain is missing vegetation and decorations, roads and main landmark buildings are there.
If you want to join our team, we are looking for people to help with texturing, modeling, beta testing and research (facts, 1993 photos etc).
ArmA 2 Operation Arrowhead screenshots; Jul 15th, 2010.
image 1
,
image 2
,
image 3
,
image 4
,
image 5
,
image 6
,
image 7
,
image 8
,
image 9
(note; the building quality and placement will be improved).
Greetings goes to Nicholas Bell for Mogadishu DEM data + satellite texture/mask, Icewindo for civilian / ArmA SF models, Fox'09 for soldier texture work.
We are planning on releasing early alpha soon. More development details from the official
PMC Somalia
forum.
FAQ
Q: Your models etc don't look like anything on Black Hawk Down movie, why?
A: This mod is about realism, not about any movie.
Q: Does this big city lag on my computer?
A: No, our design goal is to have decent enough frame rates in the city.
Q: Will the weapons be like M16A4, Rangers used M16A2 in 1993?
A: Weapons on few of the screens are just ArmA 2 defaults, we will make realistic load outs for soldiers.
Q: Will the units be just re-textures?
A: No, we will model more realistic gear to those units, if we find research material.
Q: US Navy SEALs were not used in 1993 battle of Mogadishu!
A: It was not so much publicized fact, but they were there.
Q: How can I help?
A: By doing research on historic realism (weapons, gear, units, uniforms, city photos, etc), texturing, modeling, also Visitor 3 or other tool terrain editing and also beta testing. Send private message to me for further details.
Q: When is the release out?
A: Stable release is "when its done", development releases you can download already.
Download
pmc_somalia_v0.4.1.7z
- 198mb
Mirror 1:
Armaholic.com
.
All mirrors are very welcome.