Yes, my test confirmed the aspects, you were watching ccc.
But in conclusion you can get lower cost:
standard links with "rivered" thr for wheel - value
45 > 19
(no rivers thr + dont link bridge or 20 with linked)
So you can have faster 2D movements even for theater with buggy/unfinished layout.
BTW - our river is situated in valley between objectives
ccc said:
- you also do a no-river(plain) test.. i assumed you use plain type tile?
As I said in one of previous post:
Luk said:
there is already function to convert everything to plain in thrcreator. You can choose "no road or/and no river" and overall terrain type as well (seen in rollout menu).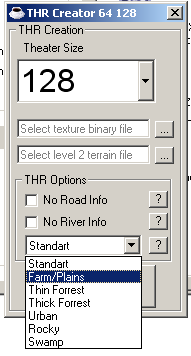 Its an option without aditional workload. Just select "farm/plains" for your thr.
You can also select "Urban" as a background for your terrain - I guess you will not need any roads in that case
(did not test)
So I guess thrcreator is good option for "fast/instant" + working theaters - even for those without good defined tiles (at least in 2D).
I think I will not use this feature for EU, because AF campaign is interesting with bridges and engeneers can repair them...
Luk